Cloud Migration Services
Moonswitch helps you achieve the benefits of the cloud with expert migration services
that go beyond simply moving your infrastructure.
The cloud holds immense potential. We help you unlock it by leveraging technological innovation to maximize the cloud's unique advantages — with minimal disruption to your business.
Strategic cloud migration is more than just a moving service.
A strategic cloud adoption and application migration plan goes beyond a "lift and shift" approach that just moves your infrastructure to the cloud.
Simply moving your infrastructure or changing platforms fails to take advantage of everything cloud-native architecture offers. A comprehensive cloud migration strategy rebuilds your existing infrastructure from the ground up to maximize the full potential of cloud computing.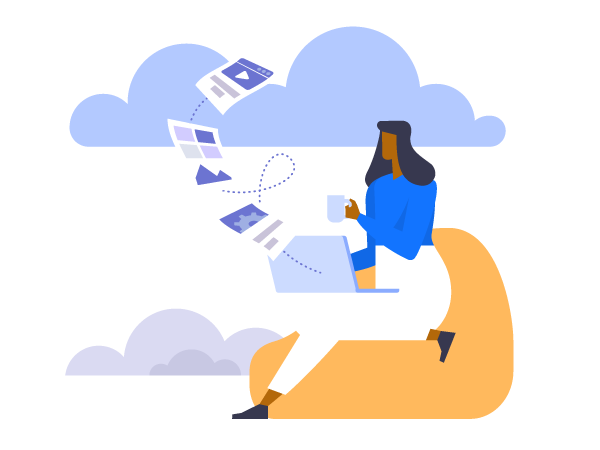 Moonswitch | An AWS Select Tier Partner
Through their partner program, Amazon Web Services recognizes organizations that have proven technical expertise and demonstrated customer experience.

Benefits of Strategic Cloud Migration Services
Strategic cloud migration and managed services is a major leap forward that pays massive dividends in the long run. Benefits include:

Improved Performance and Security
Keeping up with hardware and software upgrades is expensive. Migrating to the cloud gives your business continuous access to state-of-the-art hardware and software at locations across the world. Mature cloud service providers additionally offer unmatched security services that keep data, documents, and applications safe.

Lowered Costs
The cloud offers a distinct advantage that allows companies to move from capital expenditures (CapEx) to operational expenditures (OpEx). Strategic cloud migration maximizes this effect by lowering operational overhead and equipment costs, allowing businesses to allocate resources to initiatives that drive growth.

Better Interoperability
The Internet of Things (IoT) connects devices, data, and applications across multiple systems. Strategic cloud migration syncs your operations, enabling your business to stay agile, improve efficiency, and quickly adapt to the evolving technological environment.

Easy Scalability
Traditional IT environments were bound by physical infrastructure, making scalability a challenge. Strategic cloud migration reduces that complexity, enabling your business to scale quickly by easily adding users, executing software upgrades, and expanding storage resources.
The Moonswitch Approach to Cloud Migration
We offer a comprehensive approach to strategic cloud migration that includes:
Assessment: Our migration consulting process starts by assessing your current strengths and identifying challenges with your existing infrastructure. Factors included in our assessment include security, scalability, automation, and the ability of your infrastructure and applications to adapt to the cloud.
Development: Once we identify your needs, we design a cloud architecture that meets your requirements and aligns with your business goals.
Deployment and Testing: We deploy the cloud environment and subject it to various tests that ensure applications perform as expected. These include functional validation, performance, and integration tests.
Cloud Migration Services FAQ
Below are some of our most common questions. If you have additional questions, please get in touch via our contact page.
Ready to start maximizing the benefits
of the cloud?
Strategic cloud migration promises improved operability, scalability, and performance while lowering costs. Moonswitch assesses all factors to create a migration strategy that realizes the advantages of the cloud and provides long-term business value.